2022 MacKillop College Dux
Published on: 16 December 2022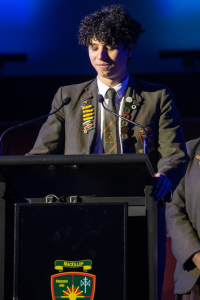 Recalling my time at MacKillop College, from my first day of Year 7 where I had absolutely no idea where my homeroom was, through to my high school graduation, I can say that there are many factors that have influenced who I am today. As one who has swum competitively and is an avid musician, my culminated experiences have helped to build my motivation, which was vital in meeting my goals throughout my studies. Not only did my extracurricular activities contribute to my academic success, but they also proved to be a healthy distraction from the many stresses that arose while studying VCE. Excelling in VCE is no easy feat. There will certainly be moments where you feel overwhelmed, so it is crucial that you turn to your support group when things get tough.
I would not be in this position without the continuous support that was provided by the MacKillop staff, who were there for every step of my way, from the insightful answers to my questions during class, to marking all of my last-minute essays. To all of my teachers throughout my high school journey, I thank you for all that you have done to assist me in getting to where I am now.
For all of the future Year 12 students, I hope that you can achieve all of your goals in life, and whenever something feels outside of your grasp, be sure not to lose heart; always put in everything you can.
Lucca Mendez
2022 MacKillop College Dux