Geoghegan Library
Our dynamically evolving Library is committed to responding to the needs of our community members. Educating students for life in a rapidly changing world challenges us to support student learning with innovative ideas and contemporary practice.
Library Times*
8:00am-6:00pm (Monday-Thursday)
8:00am-4:15pm (Friday)
CLOSED (Saturday)
CLOSED (Sunday)
---
---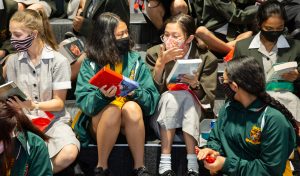 The MacKillop College Geoghegan Library is following the faith, teachings and traditions empowered by Mary MacKillop. We strive to provide a supportive and enriched teaching and learning environment for the whole College community.  
It provides a safe and welcoming holistic environment supportive of student wellbeing, enhancing individual dignity whilst encouraging all to partake of the Library services and programs in an equitable manner.  
The Geoghegan Library promotes independent learning through literature and research, utilising 21st Century technologies.  
The Geoghegan Library strives to provide lifelong learning experiences, which challenge and innovate positive attitudes to social justice and enable students to enforce and maintain a sustainable future. 
Full-time access to Library catalogue facilities, databases, online research and eBook reading is available via the College intranet.