Absentee Process at MacKillop College
Published on: 27 May 2022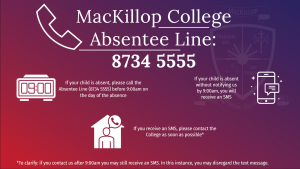 All parents/carers have to notify the College of their child's absence (and the reason) by calling the Absentee Line (8734 5555) by 9:00am on the day of the absence.
If your child is absent without notifying us by 9:00am, you will receive an SMS.
To clarify: if you contact us after 9:00am you may have already received an SMS. In this instance, you may disregard the text message.
If you received the SMS, and have not notified the College, you will need to get in touch as soon as possible. Our updated process includes an additional phone call from Administration to any parent/carer who has not been in touch regarding their child's absence. It's a safety measure to ensure all our students are accounted for.
Please ensure your contact details are up to date.