End of Term Message from the Principal
Published on: 17 September 2021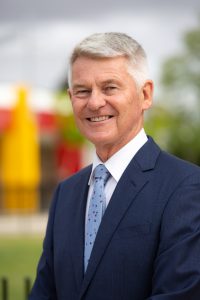 Dear MacKillop College Community
Considering what's happened over the last 18 months, I believe this term has been one of our most disruptive for students and teachers. In light of this, I wish to remind our senior students that staff and your families willingly offer each of you continued support and guidance as you finish your courses of study. As the focus of our VCE students shifts to preparing for the upcoming Unit 3/4 practice exams, I urge parents/guardians to assist with the necessary preparation and help identify areas that need attention, so that students are provided with invaluable feedback. Looking to our VCAL students, your teachers have had to be creative to support your learning, and my hope for you is that you persevere as we enter the final stretch of your high school journey.
To all of our students, congratulations on managing in remote and online learning. You have shown your resilience in this complex situation by becoming the autonomous learner you need to be for your teachers, your family and yourself. Taking responsibility for your learning is an important key in this environment and will stand you in good stead for the future.
Despite the current restrictions, I am pleased to say that a number of projects have been ongoing on campus and that we hope to present staff, students and parents/guardians with revitalised facilities upon their return to the College.
I hope to personally welcome you all back to the College soon, as vaccination rates across the State increase and we all work to keep the community safe and protected. I would also like to acknowledge and thank the teachers and staff for their outstanding efforts throughout another complex term.
I wish our community members a restful break and look forward to welcoming students and staff back in October for the commencement of the final term for 2021.
May St Mary of the Cross MacKillop journey with us.
Stay safe.
God bless.
Kind regards,
Rory Kennedy
Principal