Privacy Awareness Week 2021
Published on: 30 April 2021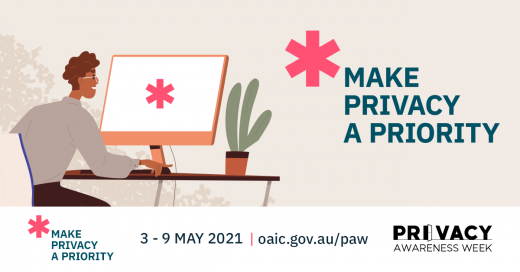 Monday 3 May to Sunday 9 May is Privacy Awareness Week where we acknowledge the need to protect the personal information we share online, either work, study or social needs.
Personal information is valuable and worth protecting. It includes our contact details, financial details, and even sensitive information about our health or beliefs. These can sometimes be revealed online in ways we may not expect.
Australians see identity theft and fraud, and data breaches and ineffective cyber security, as the biggest privacy risks we face today. 85% of Australians know and understand why personal information needs to be protected, but 49% of us don't know how to go about this.
The Office of the Australian Information Commissioner has identified 10 simple steps to assist in the protection of personal information.
If you have any questions about online safety, we urge you to take a look at the eSafety webinars conducted by the eSafety Commissioner, which provide information for parents/guardians by offering content on a range of topics at a variety of times. Register today and learn more on how to protect your family in the digital world.